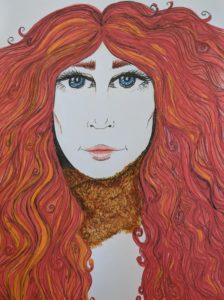 Eir Healing is a healing modality channelled by Rachel Fowler-Keene in 2016.
Eir Healing is the channelling of the empowering energetic vibration of Eir, the Norse goddess of healing. This energy can help us to align with the stance and mindset of the peaceful warrior. In turn this may help with physical improvement of strength, plus rising to the mental challenge of confrontation when and where necessary whilst holding the energy and empathy of a compassionate human being moment to moment.
You can read more on Rachel's website about How Eir Healing came into being
Eir Healing reminds us we do not have to be crushed by circumstance, nor live in anxiety or fear states. Eir reminds us we can heal and empower ourselves on all levels at once.
The healing properties of sound vibration, especially drumming, are part of Eir if you wish to embrace it. Even listening to a recording of drumming, or drumming yourself while a treatment is happening powers up and intensifies this energy so much. It can be energising and some people experience visions of nature, a sense of clarity and feeling truly alive.
Eir healing energy can help us to reconnect with that sense of knowing how to thrive, not just survive in life. We become the peaceful warrior, fully alive and connected with our empathy, feeling sure we can cope with whatever experiences we encounter.
Eir Healing opens you up to the divine, however you wish to interpret or experience that in your beliefs; Eir Healing reinforces your individual connection to your higher power, brings confidence, positive attitude, vision and fearlessness.
What does a treatment involve?
There are several elements that can be experienced with this healing modality, depending on what is happening for you.
**Similar to reiki, the energy can be channelled via the practitioners hands
**The practitioner may use drumming to intensify the vibration of the Eir Healing
**A unique bind rune can be created for you to help you to focus your energy and the Eir healing on specific factors that you wish to work on
**Specifically selected crystal runes may be placed in a layout around the person receiving the healing as they lie on a therapy bed and absorb the energy
Book in for your treatment today in -person or online
Feedback for Eir
My own personal feedback for this is how excited I am at the changes that I am seeing in clients, that this is bringing in. Most people that I have worked with so far seem and report being strengthened which I think is the combination of a chat whilst I send some energy and then the focus of drawing what they have said together by using the bindrunes. It seems to anchor what is going on for them, perhaps in order to transmute it. The use of the bindrunes also seems to inspire people as I draw them – I see a glint in the eye and a surprise that on some level it is speaking to them. I'm enjoying using this system for my own self-healing too, learning about the runes which I haven't done for many years (I am pleasantly surprised that I have come back to them after about 28 years!) I have noticed also npticed that my kundalini energy is burning through blocks since attunement to the system and I am noticing that I am asserting myself more in situations that have been challenging me and I have been working on for a while.
Client feedback – "I started to feel back to normal self, not forced self to do stuff, let it ride and let it go in a natural process. Yesterday got up earlier than have done for a while and felt good  – like life is moving in direction want it to (which it hasn't for a long time)"
Client Feedback: "I actually feel alot better! Obviously I still worry but feel its become much less. I've been finding I'm just dealing with what's happening on the day that im in! The first day was strange as im so used to having a future 'worry' it was difficult to try and stop doing it but i kept visualising the sign which i named 'magic mike' ( i know
) but its what popped into my head! And focused on what was happening right now, i felt quite emotional?! But refreshed if that makes sense?
So im heading forward with it with the help of magic mike! Im not saying i still don't think too far forward but im much improved!

Thank you so much"
I really recommend this energy healing. Eir healing with Emma was so effective after just 1 zoom session. Xxx